Welcome to the 2021 Halloween Door Decorating Contest page! Here you can scroll through the list of doors and vote for your favorite! Photos of the full doors are on the left and photos on the right are some details that stood out. The link to vote is included in the email Danice sent out.
104C - Chao Chen
Chao Chen's door is a grisly treat! As you walk down the hall, you begin to see bloody handprints here and there on the wall leading up to the door. Upon turning the corner, you're suddenly faced with a chilling murder scene. Creepy hands reach for you, eyeballs watch you, and bloody handprints appear. More blood oozes from the door, while a gruesome severed head with evil red eyes peers at you. Oooh, what a chill I feel!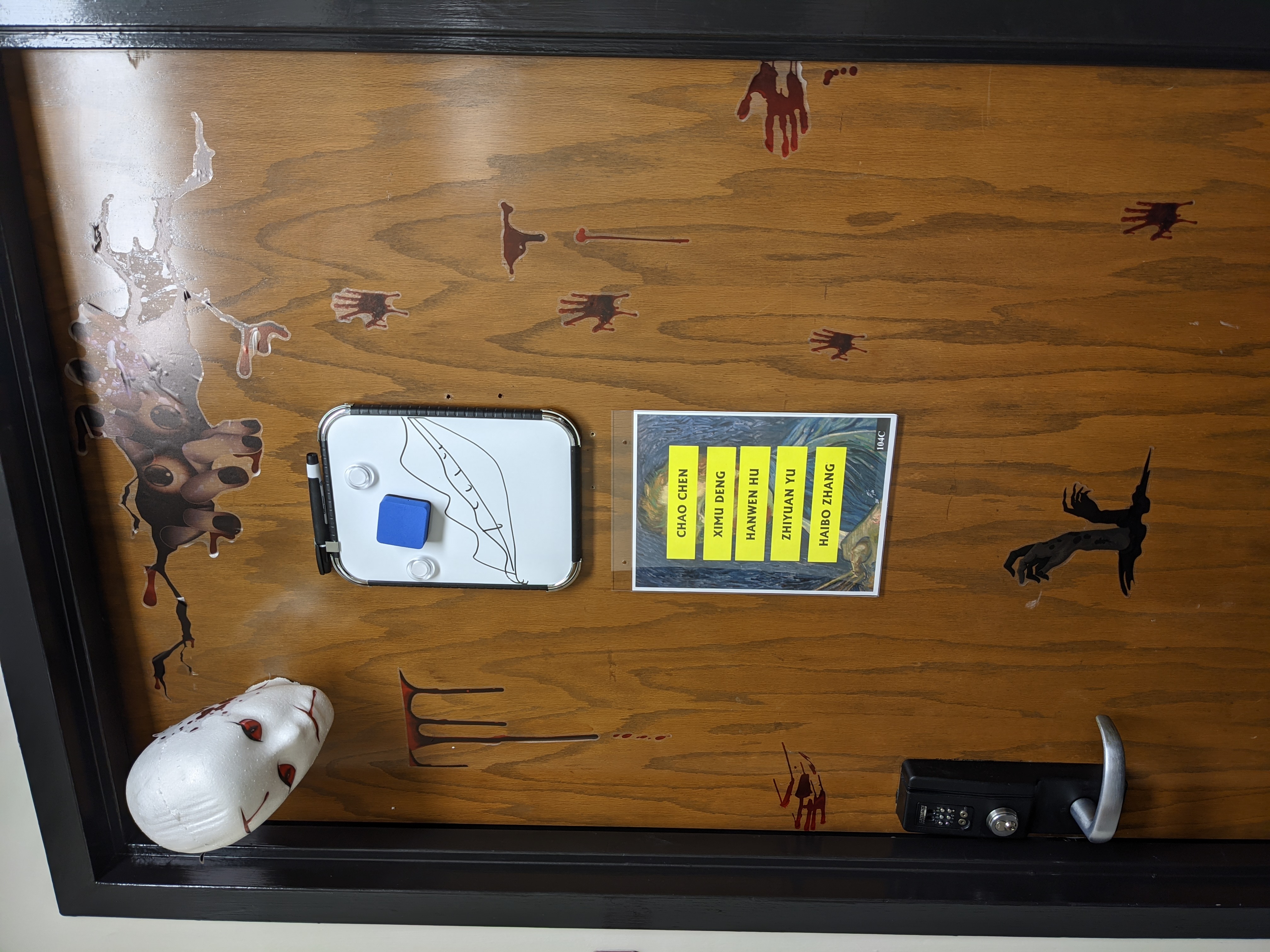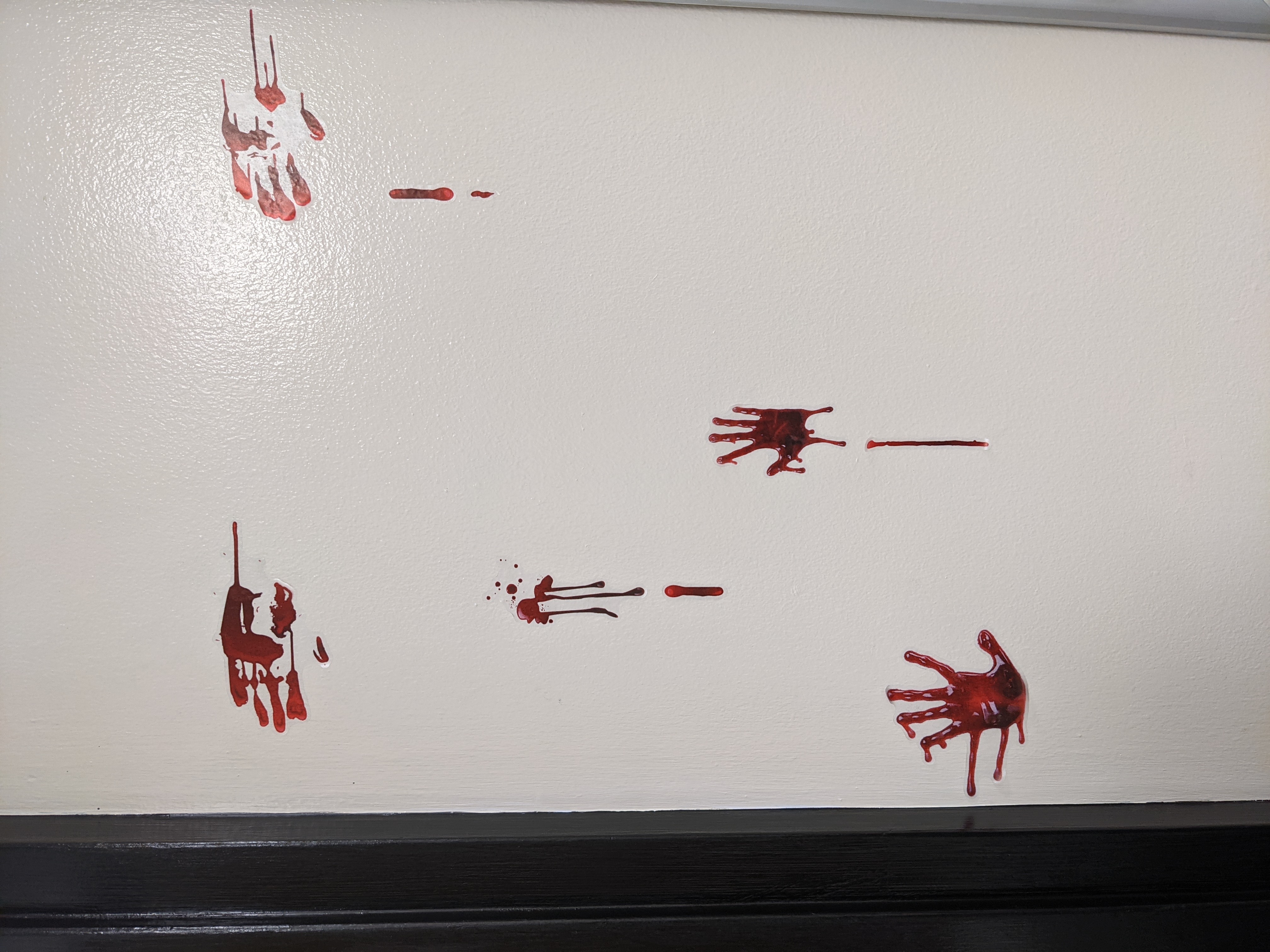 209A - Evangelous James
Evangelous James' door is a skeleton's delight! The door is bordered with laughing skulls with vacant eyes and guarded by two skeleton arms and watchful cats with glowing eyes. A friendly spider smiles a toothy smile at you from the name sign. As you approach, you're horrified to notice that the lovely pattern on the door is really tiny skulls and crossbones, surrounded by a smaller border of pumpkins, bats, spiders, and cackling witches. Super spooky!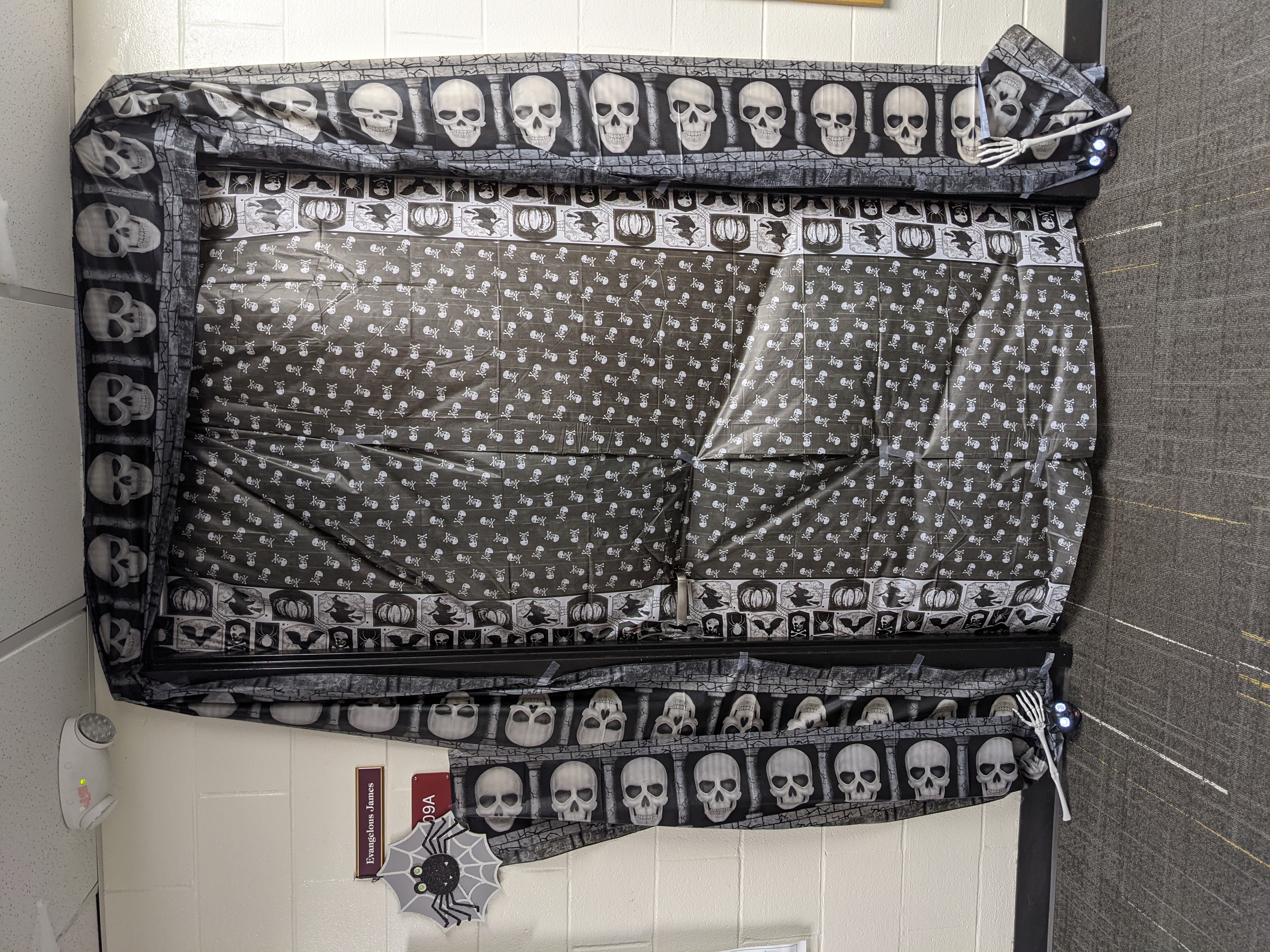 209G - Xi (Shelly) Luo
Xi Luo's door is a treat! The door loudly proclaims "Knock if you dare!" and is festooned with a black garland with laughing skulls and crossbones. Creepy life-like eyes and adorably spooky stickers of trick-or-treaters, smiling pumpkins, candy corn, spiders, and more decorate the remaining space. You'd better think twice before entering this door!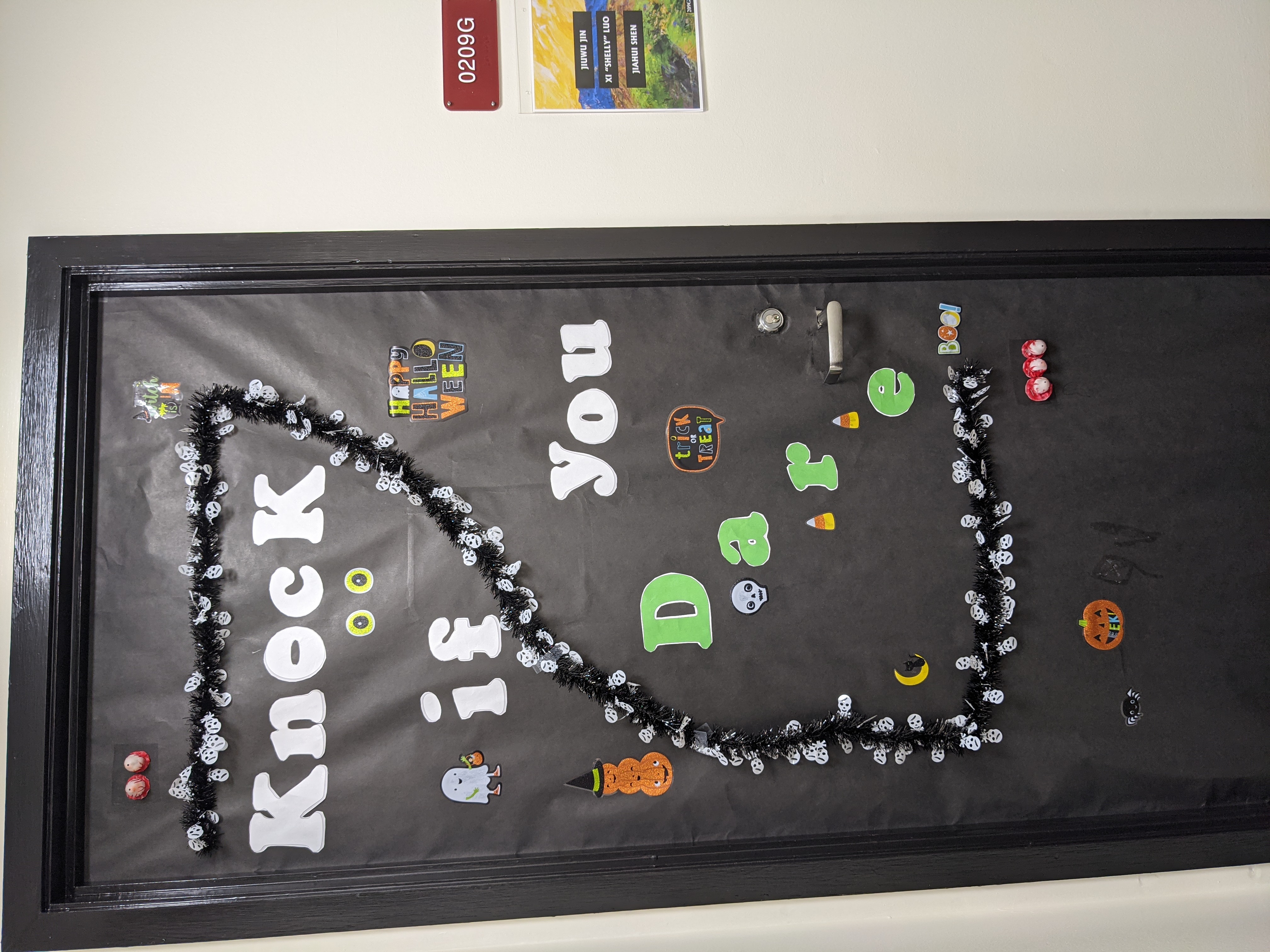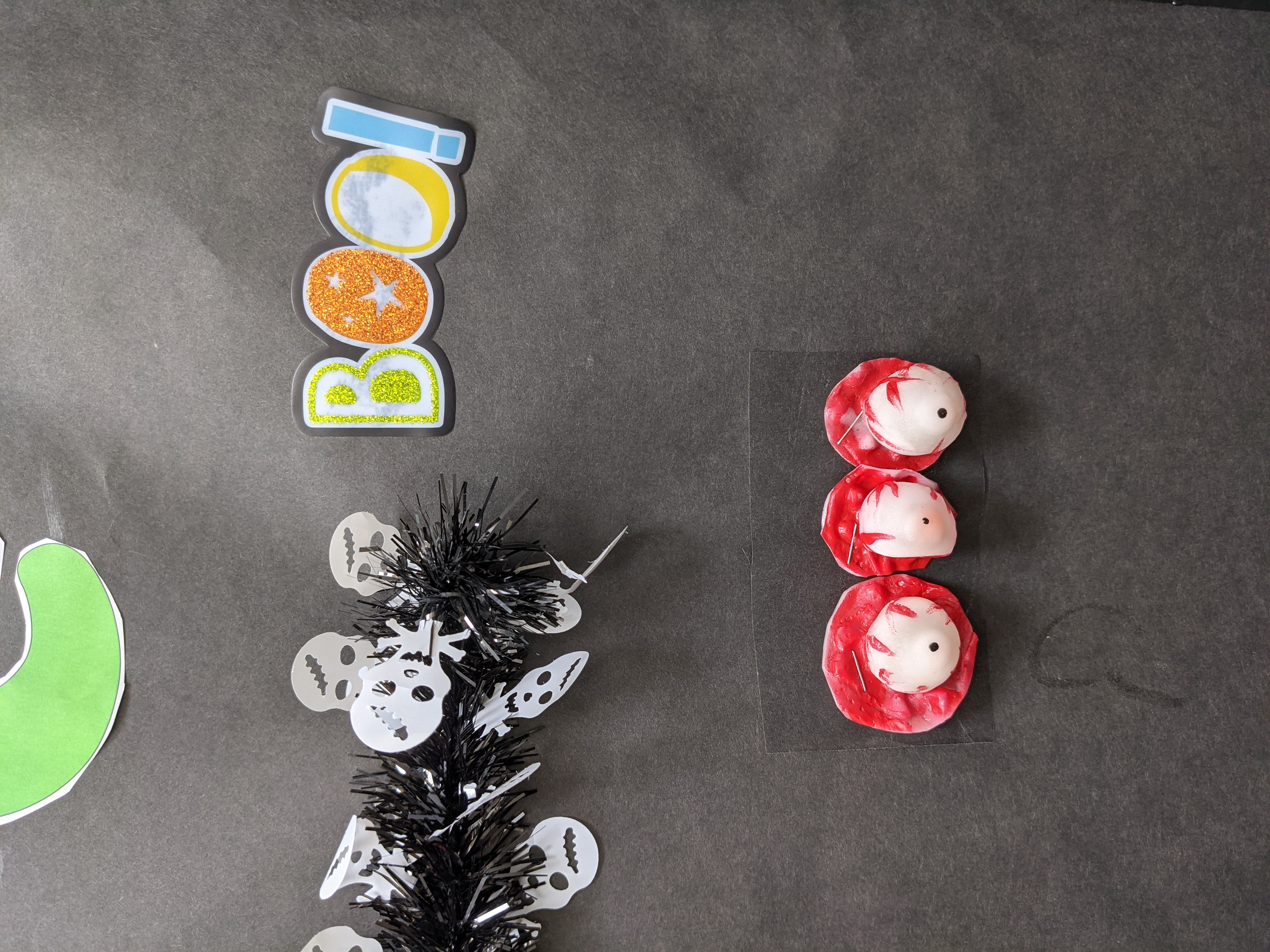 210D - Elizabeth Slate
Dr. Elizabeth Slate's door illustrates the worst nightmares of anyone trying to be published in a journal. Truly terrifying!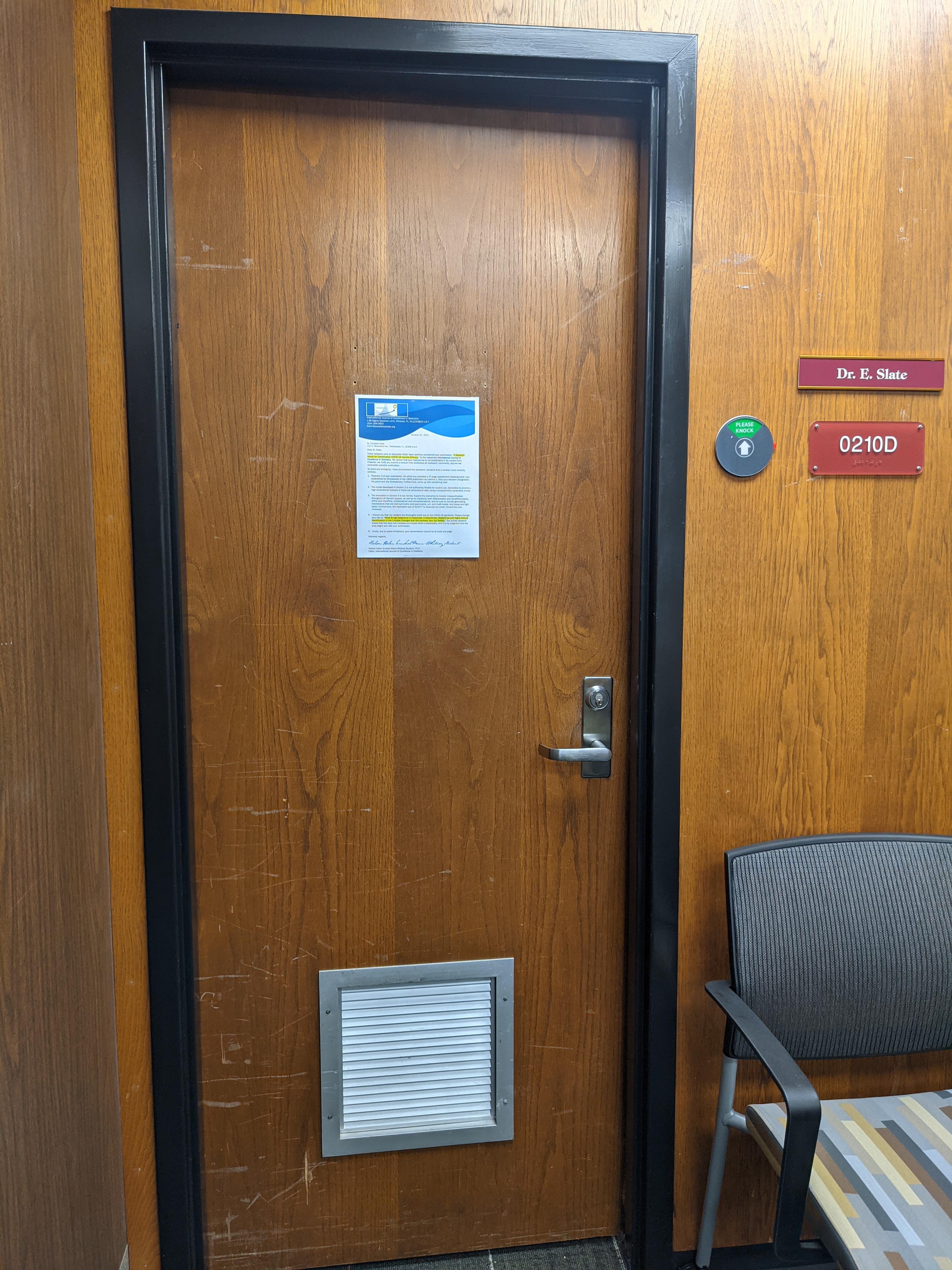 215 - Danice Stetson
Danice Stetson's door is a fall celebration! This door takes you to a fall festival pumpkin patch filled with adorable pets, sunflowers, and large soft bails of hay. Three black cats hide in jack-'o-lanterns or laze the day away on top of uncarved pumpkins, while two white puppies patiently pose with pumpkins. What an enchanting display!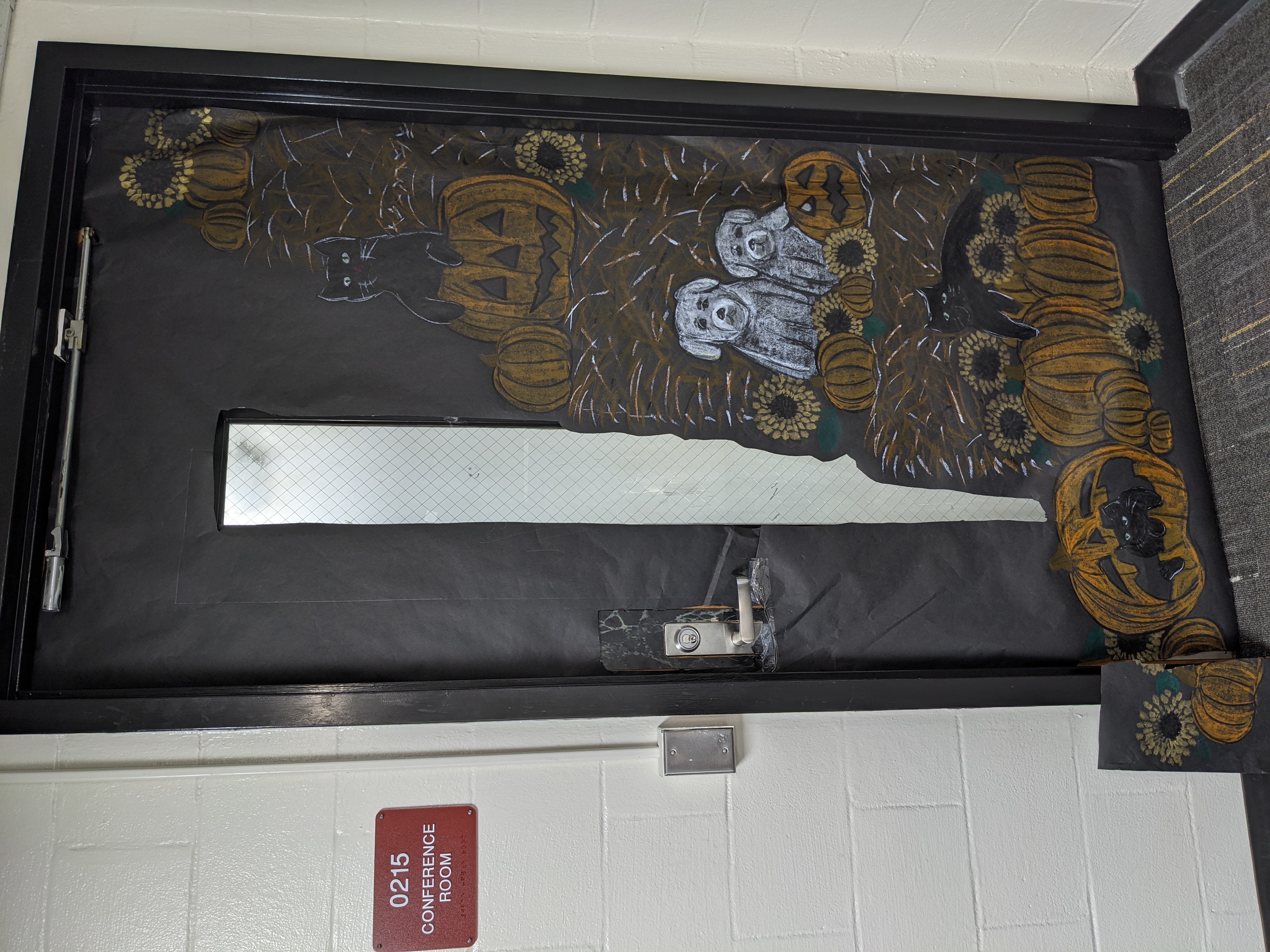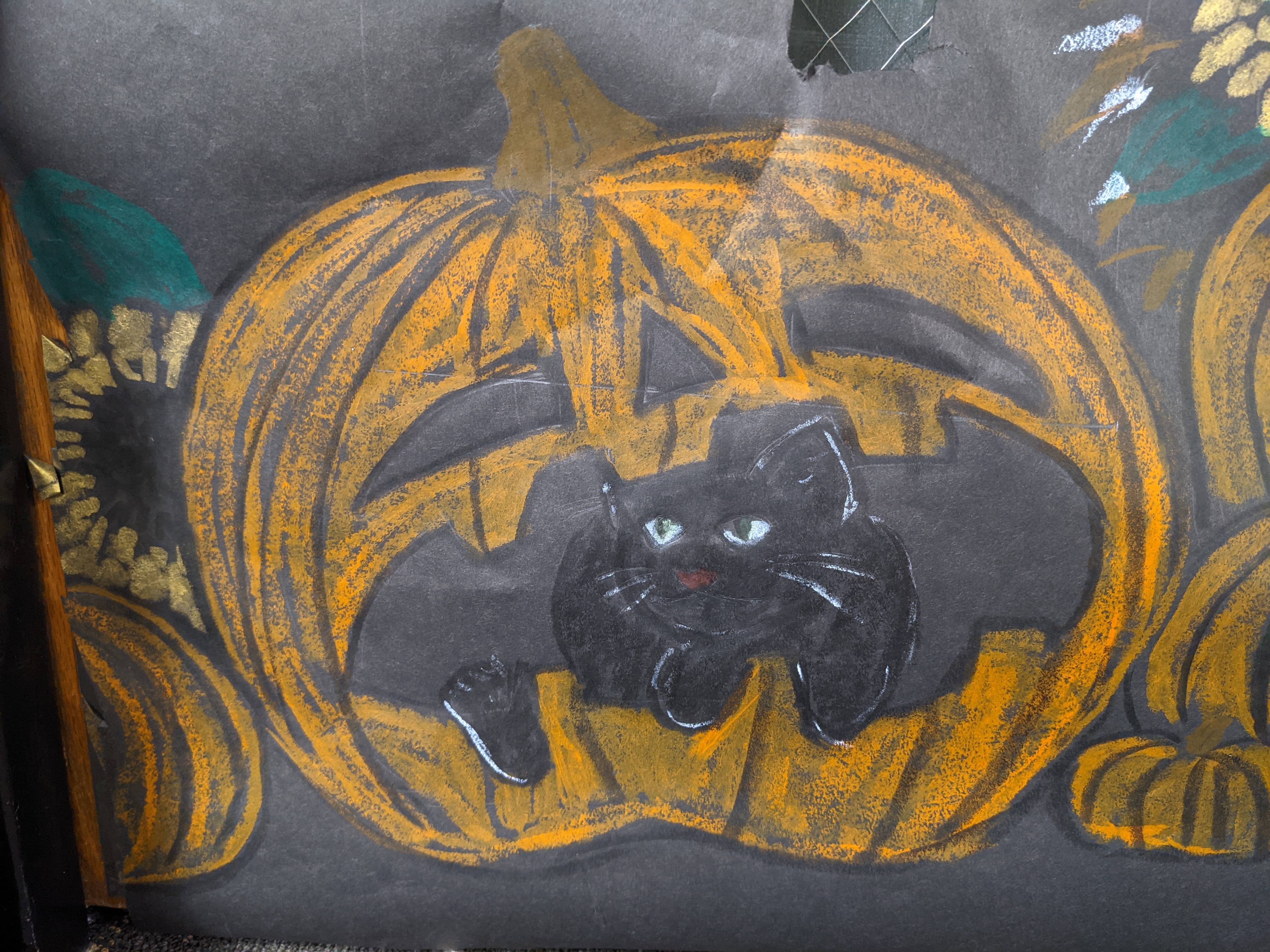 331A - Madison Layfield, Mark Zamani, Michael Zamani, Yixin Kang
331A is a team effort between Madison Layfield, Mark and Michael Zamani, and Yixin Kang. Their door is truly a chilling display! Thick cobwebs lace the door with dozens of creepy crawly spiders blocking your path. Stars twinkle bright around their office sign and they've laid out a delightful cauldron of treats for guests. But wait! What are those in the cauldron!?! There are more spiders in the candy!!! AHHHH! What a tricky treat!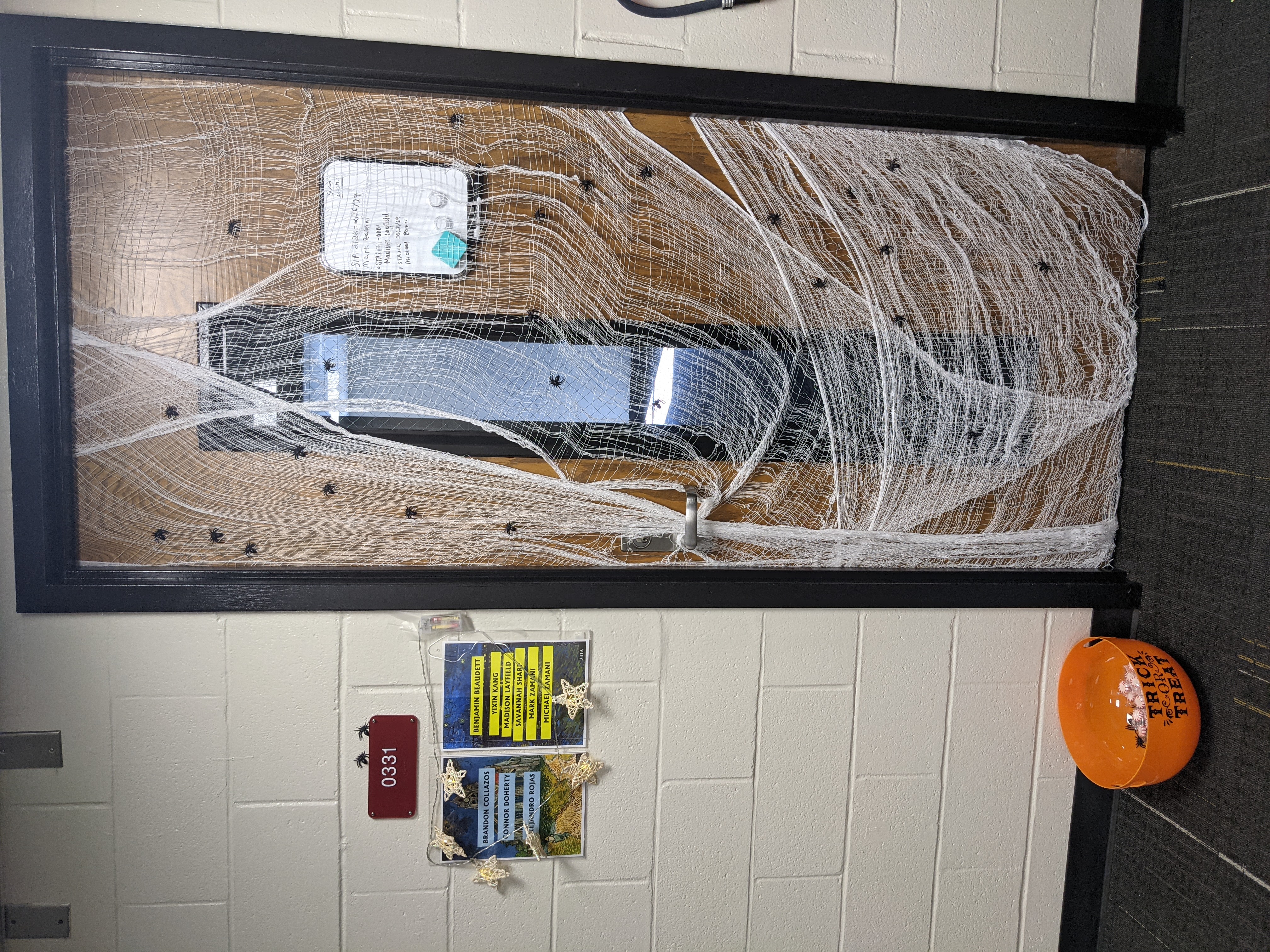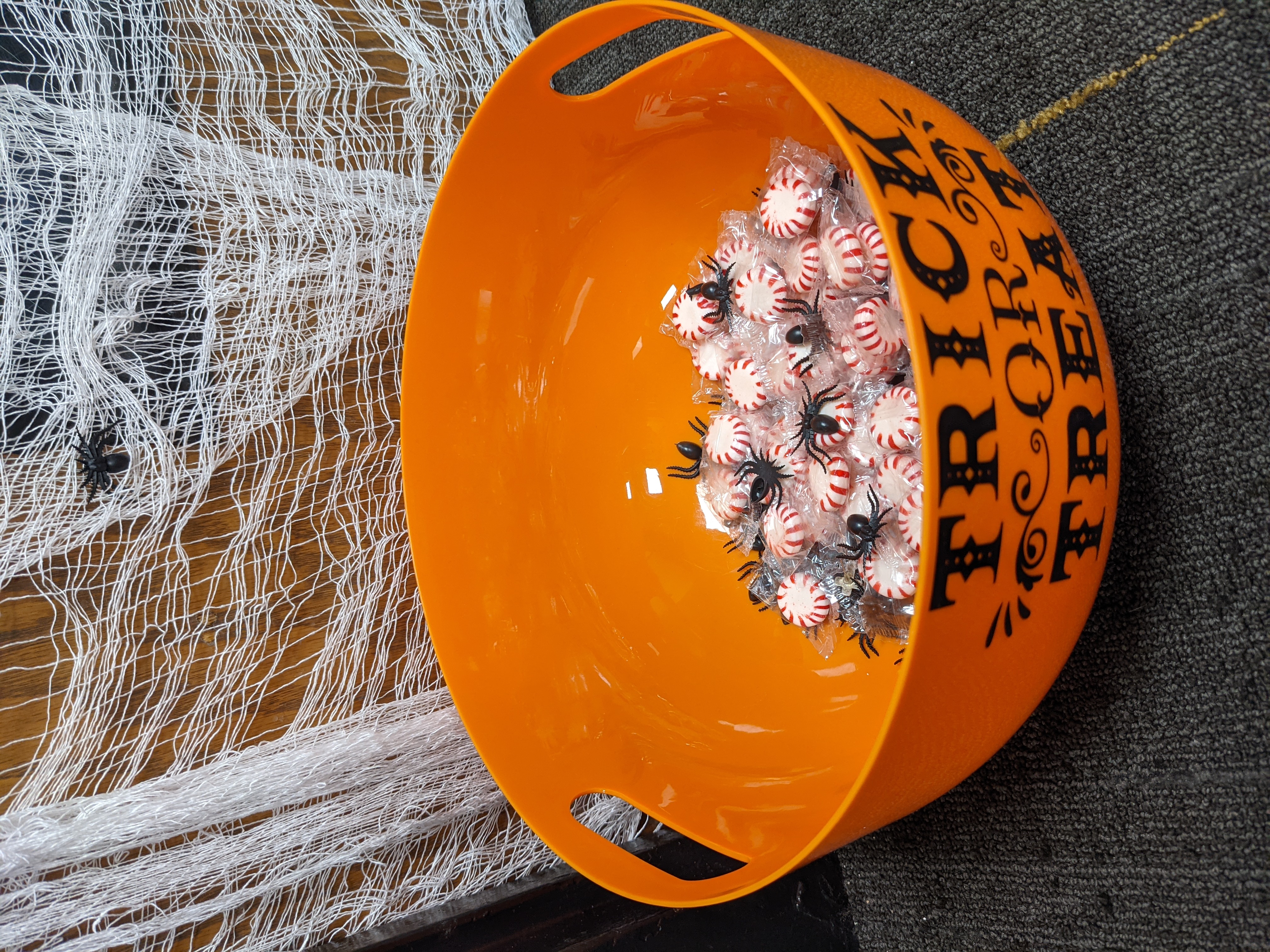 424 - Jonathan Viswasam and Duo Wang
Jonathan Viswasam and Duo Wang's door is Sith-sationable! Star Wars fans take note! This door depicts "The Lord of Hunger", Darth Nihlus! For those who may not be familiar, Darth Nihilus was a human who was drawn to the Dark Side of the Force after his world, and his body was mostly destroyed by a weapon of mass destruction. He consumed the Living Force from all the remaining survivors on his planet and began a crusade to destroy all life in the galaxy to feed his insatiable hunger for power. This is one scary Sith you wouldn't want to meet! For the final touches, "May the Force be with you" is written in creepy letters beside a red handprint on the door's dry erase board. Scary stuff!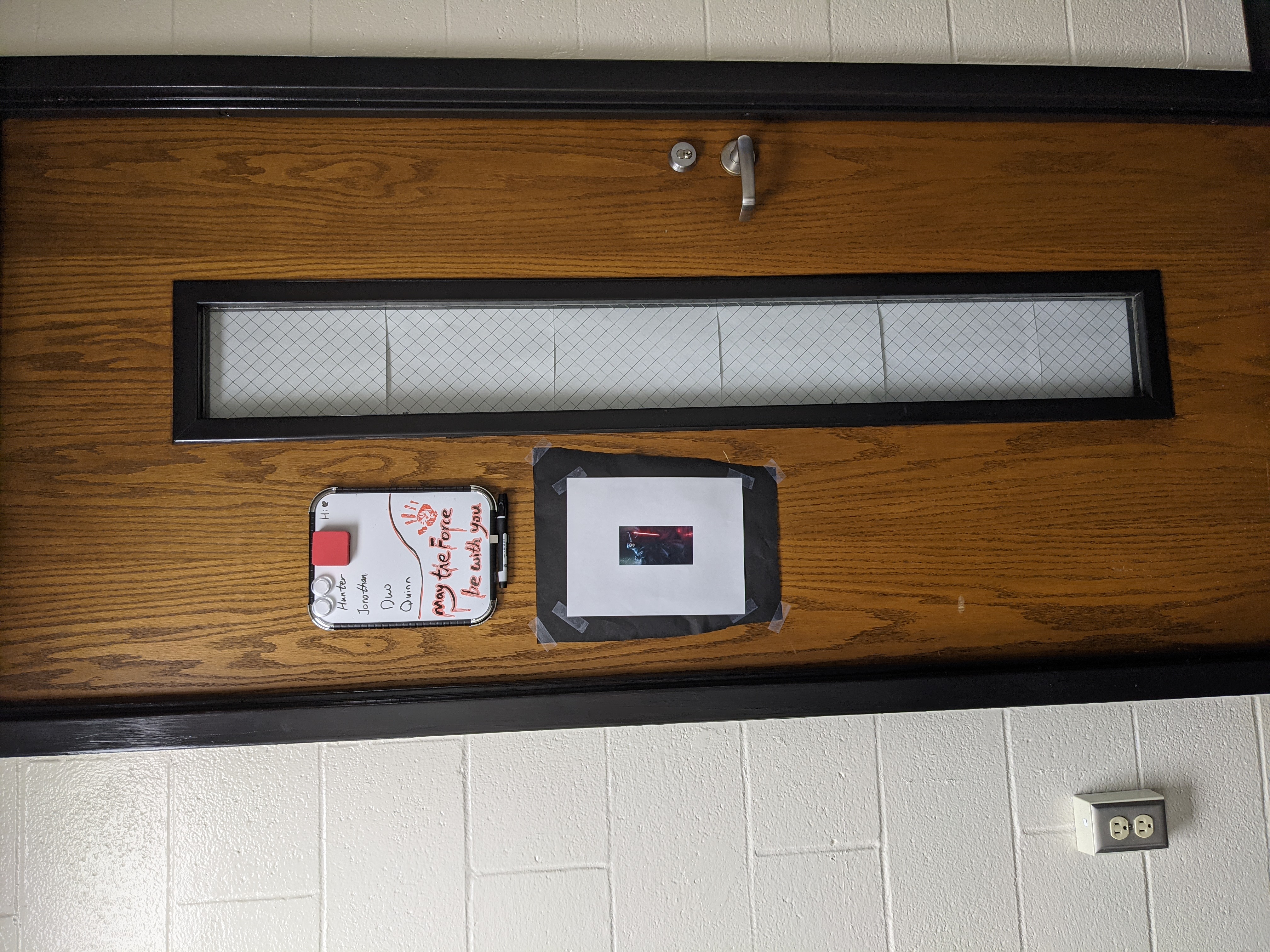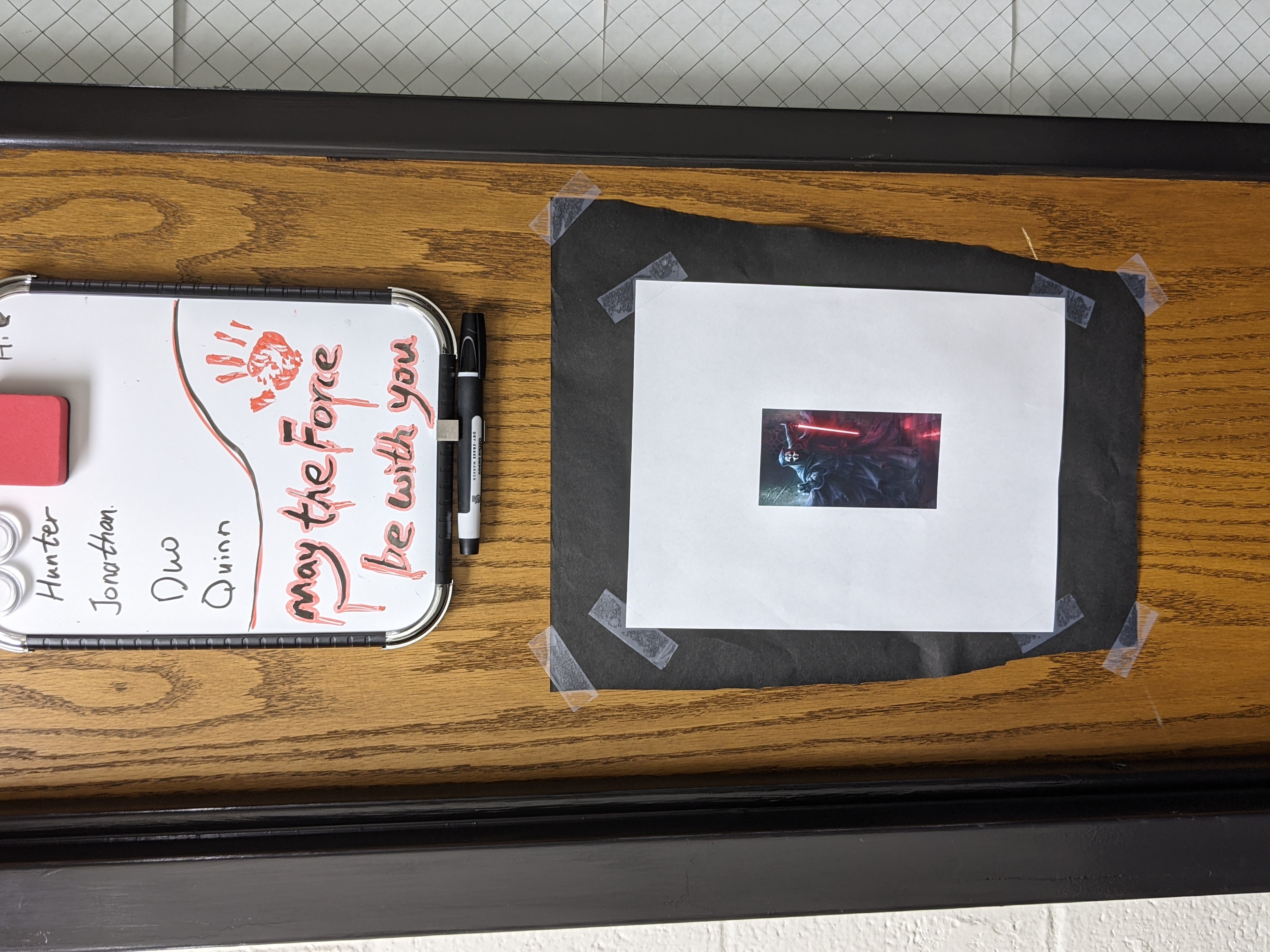 Check your email for the link to vote!
Didn't receive an email? Let Danice know!